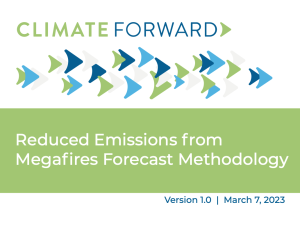 HUGE NEWS! The "Reduced Emissions from Megafires" carbon offset protocol quantifies the change in fire behaviors created by mitigation treatments and allows project proponents to generate offsets based on these emission reductions. The credit can be generated and sold prior to, and in tandem with, mitigation work, making it a truly unique new method for funding fire and ecological restoration types of forest mitigation.
We have been working with Spatial Informatics Group for over seven years to develop this protocol, and it has been in design for public release with the Climate Action Reserve's Climate Forward program for over two years.
This novel funding mechanism generates income for projects without creating debt! Click HERE to check out the release.