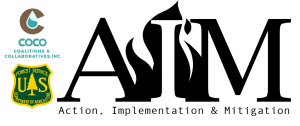 Action, Implementation, & Mitigation
AIMing for better wildfire outcomes before, during, and after a fire.
Developed in partnership with our Federal, State, and regional partners, The Action, Implementation, and Mitigation Program (AIM) seeks to increase local capacity and support wildfire risk reduction activities in high-risk communities. Coalitions and Collaboratives, Inc. (COCO) provides direct support to place-based wildfire mitigation organizations through pass-through grant funding, on-site engagement, mentoring, and training on proven best mitigation practices; provides ongoing mentoring and support to funded groups focused on accomplishing wildfire risk-reduction actions, in order to ensure programmatic sustainability at a local level; and provides technical expertise and subject matter expert resources to help high-risk communities achieve their wildfire adaptation goals.
Awards are intended to help accelerate fire-adapted community concepts, increase resiliency and local capacity and protect firefighters and communities. Funding will be provided to a wide array of organizations.  
AIM is:
An action-based group made up of wildfire mitigation

practitioners

who have

received

funding and/or support to complete risk reduction activities.

A program aimed at increasing the diversity of funding available to allow organizations the ability to increase the scale and pace of mitigation activities.

A complementary program to existing resources and programs

currently

underway.
For more background information on what AIM's Program Managers hope to accomplish, please review this volume of Fire Management Today.

The AIM Program is co-sponsored by the USDA Forest Service and the National Association of State Foresters.
In accordance with Federal law and U.S. Department of Agriculture policy, this institution is prohibited from discriminating on the basis of race, color, national origin, sex, age, or disability. (Not all prohibited bases apply to all programs.)
To file a complaint of discrimination, write USDA, Director, Office of Civil Rights, Room 326-W, Whitten Building, 1400 Independence Avenue, SW, Washington, DC 20250-9410 or call (202) 720-5964 (voice and TDD). USDA is an equal opportunity provider and employer.